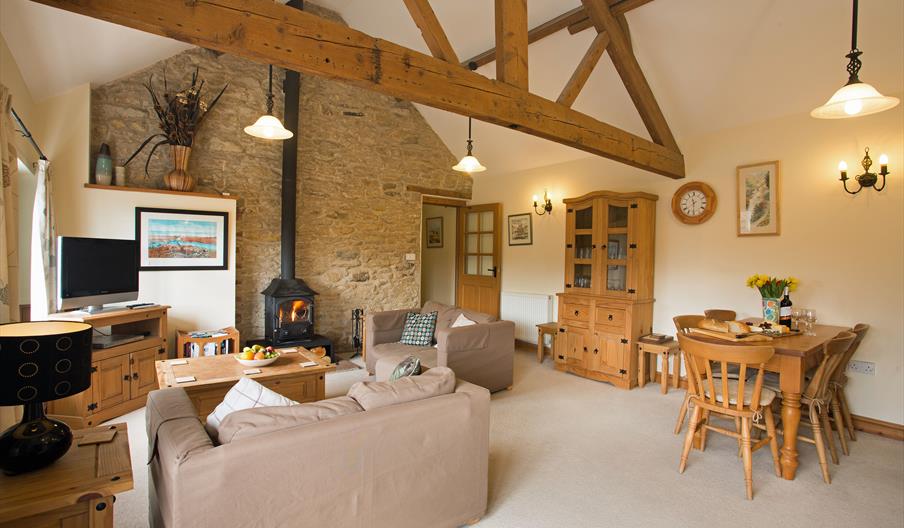 About
MALLARD

Offers 3 Bedrooms & Priced for Sleeping 4, 5 or 6 (in up to 5 Beds) plus Infants in Cots. Accessible to Accompanied Full-time Wheelchair Users.

Immediately prior to our withdrawal from Visit England's 'National Quality Assessment Scheme', Mallard was accredited as '4-Star'.

Tastefully pine-furnished two-storey Cottage, the ground floor offers open plan and spacious Sitting Room and a wood-burning stove set in a stone fireplace. The fitted Kitchen is separated from the Dining Area by a peninsula unit with cupboards under.

Also downstairs is a Twin Bedroom with fitted furniture and adjacent very spacious, fully-tiled Wet Room with Bath, thermostatically controlled Electric Shower, Toilet, Basin with shaver socket alongside, Heated Towel-Rail, and ceiling Extractor Fan.

Because the existing ground floor area is open plan, it has been possible to adapt this cottage to the point where it is entirely suitable for an accompanied Guest with mobility impairment requiring full-time use of a wheelchair. Accessible via the downstairs Dining Area, the Wet Room incorporates appropriate support rails, thermostatically controlled mixer taps on the Basin, etc. In addition, we can make available an aluminium/plastic wheeled shower chair - not self-propelled - but please note that this has a maximum weight limit of 16 stone. Both the Wet Room and the adjacent Twin Bedroom have 1.5 metre turning areas for a wheelchair.

On the First Floor, which has partial headroom due to the original low beams in the eaves, are two cosy bedrooms - One Double (overlooking the Village Green) and One Twin - a Bathroom with hand-held mixer tap Shower attachment, Toilet, Basin with light/shaver socket above, Heated Towel-Rail, and ceiling Extractor Fan.

Immediately prior to our withdrawal from VisitEngland's 'National Accessible Scheme', Mallard was accredited as Access Level 'M3 - Assisted' as applicable to Wheelchair Users taking a holiday in self-catering accommodation, indicating its suitability for accompanied full-time Wheelchair Users. We have made no changes which would affect the level of 'access' offered since that accreditation was first awarded.

Services:

Wood-burning Stove in Sitting Room.
Full Central Heating and Double-glazed Windows throughout.
All Heating and Electricity, Logs, Bed Linen (Duvets), Towels, and Tea Towels included in rental.
High Chair and Cot available without charge but Cot Linen NOT provided.
Colour TV, Freeview, DVD Player, Stereo Radio/CD Player.
Built-in Electric Oven and Hob with Extractor Fan over, Microwave, Fridge/Freezer, and Dishwasher.
Parking for two Cars - more by specific arrangement.
Two shared Automatic Washing Machines and a Tumble Drier (all operated by coin meters) are sited in a separate Laundry Room.

One Well-behaved Dog Welcome

STRICTLY NON-SMOKERS ONLY

SWIFT

Offers 3 Bedrooms, Sleeps 5 (in 4 Beds) plus Infants in Cots. Accessible to Full-time Wheelchair Users Holidaying Independently

Immediately prior to our withdrawal from Visit England's 'National Quality Assessment Scheme', Swift was accredited as '4-Star'.

Ground floor Cottage with Porch leading into an open plan and spacious Sitting Room & Dining Room with vaulted ceiling, exposed purlins, feature stonework and standalone wood-burning stove. A door from one corner of the Sitting Room leads to the fully-fitted Kitchen.

Another door from the Sitting Room gives access to a corridor leading to a Double Bedroom, Twin Bedroom, and Single Bedroom suitable for a Full-time Wheelchair User and having a 1.5 metre turning area. Also reached via the corridor is a fully-tiled Bathroom (with Bath, mixer tap Shower, Toilet, Basin with shaver socket alongside, Heated Towel-Rail, and ceiling Extractor Fan) and a 'Wet Room' (with appropriate Support Rails, thermostatically controlled Shower, Toilet, Basin with thermostatically controlled mixer tap and shaver socket alongside, Heated Towel-Rail, and ceiling Extractor Fan). In addition, we can make available an aluminium/plastic wheeled shower chair - not self-propelled - but please note that this has a maximum weight limit of 16 stone.

Immediately prior to our withdrawal from Visit England's 'National Accessible Scheme', Swift was accredited as Access Level 'M3 - Independent' as applicable to Wheelchair Users taking a holiday in self-catering accommodation, indicating its suitability for full-time Wheelchair Users holidaying independently. We have made no changes which would affect 'access' since that accreditation was first awarded.

Services:

Wood-burning Stove in Sitting Room.
Full Central Heating and Double-glazed Windows throughout.
All Heating and Electricity, Logs, Bed Linen (Duvets), Towels, and Tea Towels included in rental.
High Chair and Cot available without charge but Cot Linen NOT provided.
Colour TV, Freeview, DVD Player, Stereo Radio/CD Player.
Built-in Electric Oven and Hob with Extractor Fan over, Combination Microwave, Fridge/Freezer, Automatic Dishwasher.
Parking for two Cars - more by specific arrangement.
Two shared Automatic Washing Machines and a Tumble Drier (all operated by coin meters) are sited in a separate Laundry Room.

One Well-behaved Dog Welcome

STRICTLY NON-SMOKERS ONLY

OWL

Offers 2 Bedrooms, Sleeps 4 (in 3 Beds) plus an Infant in a Cot. Accessible to those affected by Mobility Impairment

Immediately prior to our withdrawal from VisitEngland's 'National Quality Assessment Scheme', Owl was accredited as '4-Star'.

Below Granary, an attractively furnished and readily accessible Ground Floor Apartment. Other than the single step to get into Owl, there are no further steps. As a result, it's suitable for both families with young children as well as the less mobile - having an open plan Sitting Room with Dining Area and Fitted Kitchen.

One Double and one Twin Bedroom, Bathroom with wall-mounted Mixer Shower over Bath, Toilet, Basin with Light/Shaver Socket above, Heated Towel-Rail, and wall-mounted Extractor Fan.

Immediately prior to our withdrawal from VisitEngland's 'National Accessible Scheme', Owl was accredited as Access Level 'M1' as applicable to those with mobility impairment - but not Wheelchair Users - taking a holiday in self-catering accommodation.

Services:

Full Central Heating throughout with Double-glazed Windows and Double-glazed Patio door providing access to Patio Area and Garden.
All Heating and Electricity, Bed Linen (Duvets), Towels, and Tea Towels included in Rental.
High Chair and Cot available without charge but Cot Linen NOT provided.
Colour TV, Freeview, DVD Player, Stereo Radio/CD/Cassette Player, Built-in Electric Oven and Hob with Extractor Fan over, Microwave, Larder Fridge, Small Freezer, Dishwasher.
Parking for one Car - two by specific arrangement.
Two shared Automatic Washing Machines and a Tumble Drier (all operated by coin meters) are sited in a separate Laundry Room.

Note: 'Owl-with-Granary' is an attractive option for two separate Parties of three or four Guests (i.e. seven or eight people in total) holidaying together but wishing a degree of 'privacy' from time to time.

One Well-behaved Dog Welcome

STRICTLY NON-SMOKERS ONLY

GRANARY

Offers 2 Bedrooms, Sleeps 3 or 4 (in 2 or 3 Beds)

Immediately prior to our withdrawal from Visit England's 'National Quality Assessment Scheme', Granary was accredited as '4-Star'.

Character first-floor Apartment (above Owl) with attractive original beams and external stone steps with hand-rail. Triple aspect open plan Sitting Room with Dining Area and Fitted Kitchen offering pleasant views towards Levisham to the east and the Vale of Pickering to the south.

One Double and one Single Bedroom (adaptable for a fourth Guest, if required, for a supplemental charge), spacious Bathroom with Corner Bath having hand-held mixer tap Shower attachment, separate Shower Cubicle with Electric Shower, Toilet, Vanity Unit with Basin, Light/Shaver Socket over basin, Heated Towel-Rail, and ceiling Extractor Fan.

Please note that we don't regard this cottage as suitable for children under the age of 10 years.

Services:
Full Central Heating and Double-glazed Windows throughout.
All Heating and Electricity, Bed Linen (Duvets), Towels, and Tea Towels included in Rental.
Colour TV, Freeview, DVD Player, Stereo Radio/CD/Cassette Player, Built-in Electric Oven and Hob with Extractor Fan over, Microwave, small Fridge/Freezer, Dishwasher.
Parking for one Car - two by specific arrangement.
Two shared Automatic Washing Machines and a Tumble Drier (all operated by coin meters) are sited in a separate Laundry Room.

Note: 'Owl-with-Granary' is an attractive option for two separate Parties of three or four Guests (i.e. seven or eight people in total) holidaying together.

One Well-behaved Dog Welcome

STRICTLY NON-SMOKERS ONLY

Freeview in all Properties; Unlimited Fibre Broadband in all Properties; Table Tennis in 3-sided Barn
Facilities
Children
Children welcome - Children welcome from any age
Children's outdoor play area
Cots available
High chairs available
Facilities
Property Facilities
Dogs/pets accepted by arrangement
Facilities
Property Facilities
Facilities
Room/Unit Facilities
Facilities
Leisure Facilities
Leisure club (onsite or nearby)
Sauna onsite
Facilities
Leisure Facilities
Swimming pool - indoor onsite
Facilities
Accessibility
Assisted wheelchair users
Disabled facilities
Entrance
Entrance is well lit
Ramp to entrance
Access
Level access (no steps/thresholds) or access by ramp or lift to:
Dining room
If 'yes', list these, eg garden, dining area, swimming pool, etc.Leisure Suite (Swimming Pool, Spa, Sauna), Garden
Kitchen
Lounge
One or more bedrooms
Outdoor facilities
Toilet and bathroom
Toilet suitable for wheelchair users
Kitchen
Seating available in kitchen
Sink taps have lever handles
Bed/ Bathrooms
Bath with support handrails available
Bathrooms available that have been specially adapted for wheelchair user
Bathrooms available with:
Bath
Bath with shower
Separate shower unit
Wet room
Separate shower unit with fixed shower seat or shower chair available
Separate shower unit with support handrails available
Taps in bathroom with lever handles available
W.C. fitted with handrails available
Parking for Multiple unit properties:
Drop-off point for guests outside entrance
Route from the parking area to the entrance:
Flat (i.e. without steps)
Surface of the car park and pathway leading to entrance:
OtherConcrete leading to gravel.
Solid ie tarmac / concrete etc
This information is self-assessed; therefore we accept no liability for its accuracy. Please contact the venue for further information.