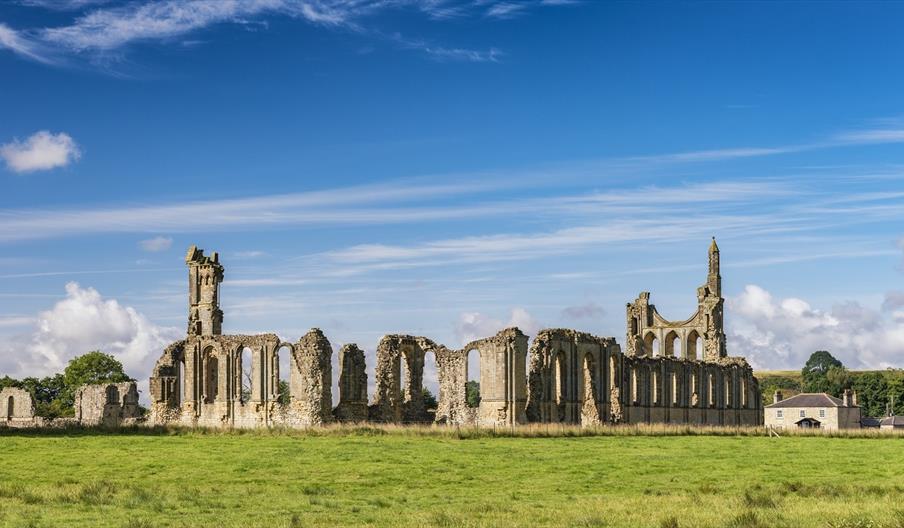 About
This beautiful ruin, set in the shadow of the Hambleton Hills, was once one of the great northern monasteries. A truly outstanding example of early Gothic architecture, Byland inspired the design for the famous York Minster Rose Window as well as influencing many other religious buildings throughout Europe. Its splendid collection of medieval floor tiles still in situ is the largest in Europe.

Family friendly activities and resources.
Byland Abbey is the perfect place to stop on a family day out, or if you're walking or cycling in the North York Moors National Park.
Once one of the greatest monasteries in England, Byland Abbey inspired the design of church buildings throughout the North.
A truly outstanding example of early gothic architecture, it inspired the design of the famous York Minster rose window.
Parking – Small, triangular-shaped car park (room for about 9 cars). Additional parking is available in the lay-bys half a mile to the south towards Coxwold and behind the Abbey Inn. Disabled visitors may be set down at entrance gate, but beware passing cars.
Facilities – You are welcome to bring a picnic to eat in the grounds. Picnicking is allowed anywhere in the grounds except on the mediaeval floor tiles.
Toilets - No toilets are currently available on site.
Tours - Due to covid-19, we regret that group tours are not available at this time.
Byland Abbey Inn - When guidelines around covid-19 permit, refreshments will be available at the nearby Byland Abbey Inn. For details, please see Www.BylandAbbeyinn.uk
Byland is a short drive from another of Yorkshire's great abbeys - Rievaulx Abbey. Also nearby are Helmsley's Archaeological Store and Helmsley Castle. For tours of the archaeological store, please check the website for details.
Book Tickets
Facilities
Property Facilities
Facilities
Groups
Education/study area
Facilities for educational visits
Facilities
Accessibility
Disabled access
Disabled toilets
Wheelchairs available