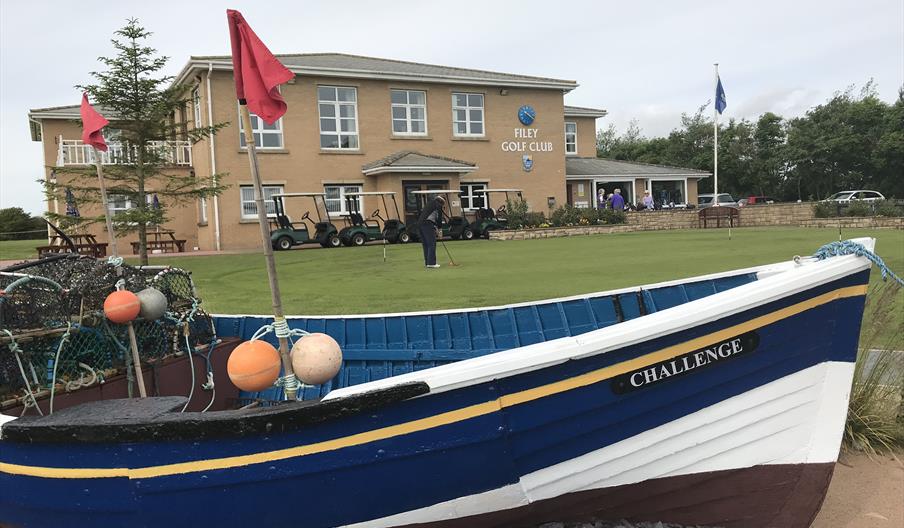 About
Filey Golf Club was established in 1897. The original course was situated on land to the north of this fine old North Yorkshire fishing town.

The course moved to its present site on the south side of town two years later. The design of the "new links" is credited to James Braid and examples of his design features can be seen on the course.

Filey Golf Club is a member of the Association of James Braid Courses. Members of these courses can enjoy a reduced Green Fee rate by booking through the Golf Shop or Office (01723 513293 – Option 3 or Option 2.)

It has been suggested that Dr. Alister Mackenzie, during his period of residence in Leeds, made amendments to the original design.

During his period as club professional at nearby Ganton, Harry Vardon would often play challenge matches over the Filey Course with his fellow Channel Islander Fred Beck, the Filey Club Professional.

The course has been modified over the years to take into account modern technology but still retains the original Braid layout.
The purchase of adjoining land has allowed the club to incorporate a 9 hole short course into its facilities.

This "Academy" course is proving popular with beginners and visitors who do not wish to play the main course. (Separate membership is available for the Academy Course at greatly reduced rates to encourage newcomers to our great game.)
The old clubhouse has been replaced with a modern building (2002) to cater for the needs of members and visitors.

The welcome you receive at Filey Golf Club has not changed over the years. We hope you will continue to visit our fine Club and Course.
Book Tickets
Entrance
Entrance is well lit
Public Areas
Contrast markings on clear surfaces such as glass doors
Good contrast between the floor and walls
Level access (no steps/thresholds) or access by ramp or lift:
From the entrance to reception / ticket area
To a specially adapted public toilet suitable for wheelchair users
To the gift shop
Food
Good contrast between the floor and walls
High chairs for children
Level access (no steps/thresholds) or access by ramp or lift to cafeteria
Menus available in large print (14pt and over)
Restaurant / cafe provide meals for visitors with special dietary requirements:
Seating suitable for wheelchair users, ie moveable and good height for person sitting in a wheelchair
Parking
Designated parking for guests with disabilities
Within 50 metres approx. of entrance
The route from the parking area to the entrance:
Is flat (i.e. without steps)
The surface of the car park and pathway leading to entrance:
General
Audible alarm system
Displays at suitable height for wheelchair users / children
Effective lighting for visually impaired visitors
Good colour/tonal contrast for visually impaired visitors
Routes/pathways suitable for wheelchair users or visitors with limited mobility
Seating available for visitors with limited mobility
This information is self-assessed; therefore we accept no liability for its accuracy. Please contact the venue for further information.