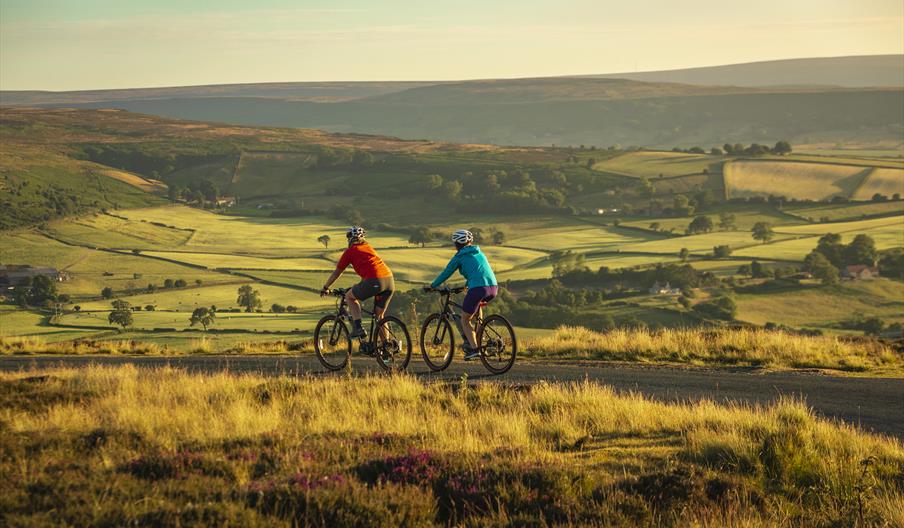 About
The 'Moor to Sea Cycle Network' connects Scarborough, Whitby, Dalby Forest, Pickering and Great Ayton in a stunning series of moorland, forest and coastal loops. There are around 150 miles to explore, through the very heart of the North York Moors National Park – on quiet roads, woodland tracks and bridleways, as well as along the line of the former Scarborough to Whitby railway (the 'Cinder Track').

Riding the whole network would provide 5 or 6 days' great cycling, but it's split into eleven separate sections so that you can tackle shorter stages on day rides and outings. It's also possible to do smaller circular trails off the main network, particularly starting from Hawsker or Dalby Forest.

Get the guide

Moor to Sea Cycle Network Book, a useful route guide to the Moor to Sea Cycle Network is available from the National Park Centres at Danby and Sutton Bank, and from local shops and tourist information centres. As well as the route guide, we recommend you use Ordnance Survey maps OL26 and OL27, which cover the North York Moors area.

Find your way and download routes from the website.

The route is way-marked all the way, using cycle route signs and waymark arrows. An odd sign may be missing so make regular map checks to save unnecessary miles. You can download a map of the Moor to Sea Cycle Network from the website.

Check Moor to Sea route news before you set off – we provide on the website regular route updates and post any recent changes to rights of way.

Read about the route and download instructions for each section of the Moor to Sea from the website:

•01. Scarborough to Ravenscar (the 'Cinder Track') (10½ miles, 16.9km)

•02. Whitby to Ravenscar (the 'Cinder Track') (11 miles, 17.7km)

•03. Scarborough to Highwood Brow (8 miles, 12.9km)

•04. Highwood Brow to Ravenscar (14 miles, 22.5km)

•05. Pickering to Highwood Brow (14 miles, 22.5km)

•06. Great Ayton to Danby (13 miles, 21km)

•07. Whitby to Danby (15 miles, 24km)

•08. Pickering to Langdale End (15 miles, 24km)

•09. Langdale End to Whitby (18 miles, 29km)

•10. Easby to Rosedale Abbey (19 miles, 31km)

•11. Rosedale Abbey to Dalby (15 miles, 24km)

Looking for a great day ride?

We've done the hard work for you and planned a 32-mile (51.5km) circular day ride taking in some of the best bits of the Moor to Sea. Download the route below from the website – now all you have to do is pedal!

•Moor to Sea: Coast and Forest Circular

Need to know

Basic cycling skills and reasonable fitness are required to cycle the Moor to Sea route. It's suitable for family cycling, although it does pass through remote countryside in places, offering little in the way of shelter or facilities.

•The route uses forest tracks, 'green lanes' and minor roads as well as the 'Cinder Track'. Off-road surfaces are mostly good, although some sections are stony and there may be seasonal rain damage

•Moor to Sea crosses varied terrain, from the largely flat Cinder Track to gradual ascents/descents within the forests. It's mostly moderate going, but there are also some short, steeper sections (clearly indicated on the dowloadable detailed route directions)
•Be aware that there is limited mobile telephone reception along much of the route

•Scarborough, Whitby, Danby, Pickering and Great Ayton are accessible by bus or train, though you will have to check for any restrictions on carrying bicycles on public transport

The Moor to Sea Cycle Network is managed by a partnership comprising the North York Moors National Park Authority, Forestry Commission, North Yorkshire County Council, Ryedale District Council and Scarborough Borough Council.
Book Tickets
Facilities
Parking
Routes
Description of route - More than 150 miles of different cycling routes.
Map & Directions
Road Directions
The route starts from Scarborough Railway Station.
Public Transport Directions
Accessible by Public Transport: Scarborough Railway Station station is 0 miles away.