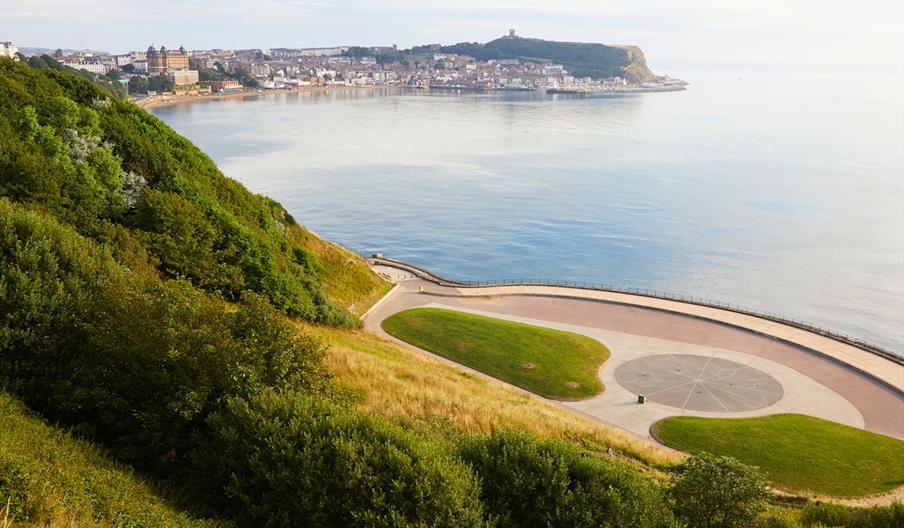 About
The largest illuminated "Star Disk" in the UK, and possibly in Europe - 26 metres in diameter.
Constructed on the site of the South Bay Pool, the disk contains fibre-optic terminals representing the 42 brightest circumpolar stars (stars which never set) as seen from Scarborough. It also marks the position of the sunrise points over the North Sea for various dates of the year.

Using the Star Disk as written on the information boards at the site:

Before you is probably the largest star disk of its kind in the United Kingdom. The 42 stars, which glow at night as fibre optic light points, show the brightest stars always visible in the northern sky above Scarborough's distinctive headland, with the Pole Star almost at the centre. You will recognise the seven stars of "The Plough", or "Big Dipper", perhaps the most well known pattern of stars in the northern hemisphere. Also you will see the "W" shape of Cassiopeia, a vain queen who featured in a famous story of Greek mythology, together with her husband, King Cepheus of Ethiopia. Can you also spot the "Little Bear" with the Pole Star at the tip of his tail, and Draco the Dragon snaking around between the Plough and the "Little Dipper", another name for the little Bear?

The brightest star on the disk is Capella, the little she-goat, in the arms of Auriga, the Charioteer. This star, the sixth brightest in the entire sky, may be seen low in the north during summer nights, but almost overhead at midnight in midwinter.

If you stand at the very centre of the disk, where all the lines converge, your exact geographical location on the earth's surface is:

LATITUDE: 54 degrees, 16 minutes, 15.4 seconds NORTH of the Equator

LONGITUDE: 00 degrees, 23 minutes, 36.8 seconds WEST of the Greenwich Meridian, and from here, notice how True North is exactly in line with the tower of St Mary's Church!

From the disk's centre the positions of Sunrise over the sea at various dates can be seen. The dates are marked on the inner wave-wall seat.
Book Tickets
Facilities
Property Facilities
Facilities
Parking
Property Facilities
Dogs Accepted
Public toilets
Map & Directions
Road Directions
By road:Follow signs to Scarborough's South Bay seafront. The Star Disk is located at the South side of the bay, just after the Spa Complex. Parking is available at the Spa, then proceed on foot.Accessible by Public Transport: Scarborough station is 1 mile away.