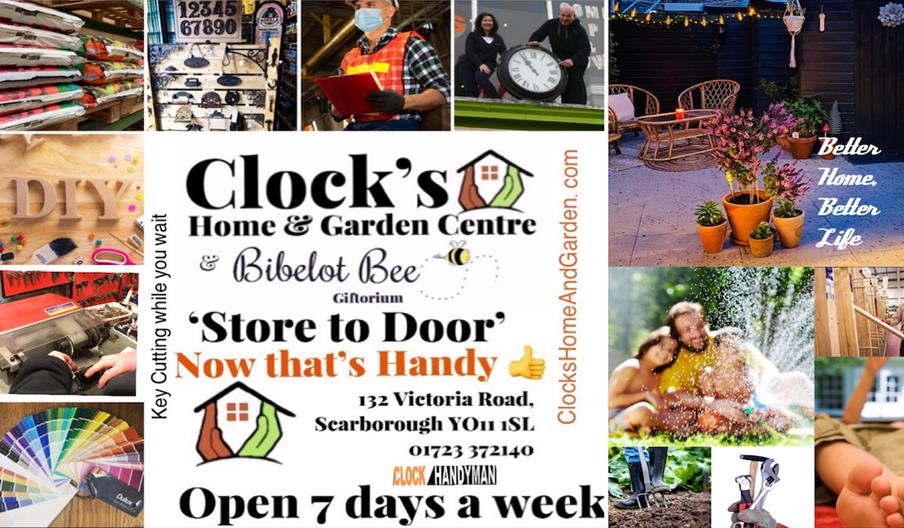 About
Clock's Home and Garden (formerly Clock Handyman) opened in Scarborough in 1973. During both prosperous and difficult times we have been here to support our customers as they achieve their DIY dreams, no matter how big or small. We continue today to supply over 20,000 lines of lovely goods for your home and garden. As one of the largest independent DIY stores on the North Yorkshire Coast, we can offer a selection that is second to none. A massive range of big brand names is available, alongside helpful advice on what works for your budget. Whether you are decorating your home, a tradesman needing equipment or workwear for a job or a crafter, DIY'er or fixer we are here for you.
We can help you get your project underway by supporting you to select the best product to finish off a trade job or decorating, building, fixing, cleaning, protecting, or making things for your home and garden. We can also provide advice on the latest trends in colours or household decoration.
We take pride in our great reputation and the way our loyal customers continue to say, "there's nowhere like Clock's."
In addition to offering products and tools you need to complete any job, we also offer a customer service that is second to none. We cut duplicate keys, mix big brand paints, delivery from store to your door and offer a click and collect service via our website. We are proud to also be the bricks and mortar home for Bibelot Bee. Our trendy, quirky sister shop is a wonderful Giftorium store within a store. Bibelot Bee provides customers with soft furnishing, gifts, cards and fair-trade products. So if you want treats for your home garden or a thoughtful present our friendly team, is waiting to
serve you.
Call us 01723 372140, or visit us today and let the experts guide you on what to buy and how to use it. Come and see our range and quality in Scarborough. Call us with any questions or visit us in Scarborough today and put your DIY dreams in the hands of the experts.