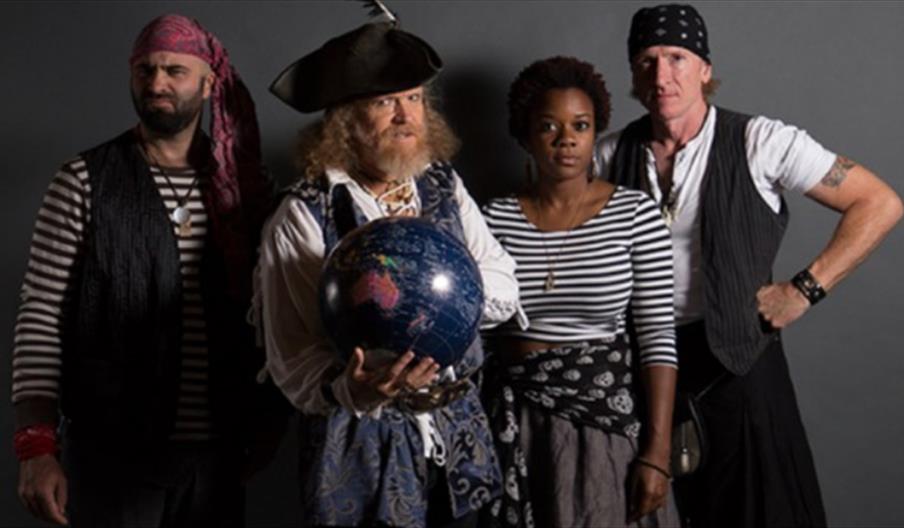 About
A maritime themed concert with the more traditional folk and contemporary tunes of the Joe Danks Trio with Tom Mason and his Blue Buccaneers focusing on the golden age of piracy.

Tom Mason and the Blue Buccaneers are a wild band of Nashville musicians who dress like pirates and play a rollicking mix of piratical sing-alongs, rousing historical rave-ups, afro-cuban tinged ballads, Cajun sea shanties, and bluesy Irish jigs, transforming big festivals, performing arts centres, and urban nightclubs into bustling seaside taverns at the turn of the seventeenth century.

Their newest CD, written with young pirates in mind, is "If You Want to be a Pirate: Songs for Young Buccaneers".

It's a kids CD that adults would appreciate, so it's full of humour, harmonies, stories, and solos, with all the mayhem and none of rum, murder, and sorrow that sometimes shows up in our songs. There are sing-alongs and dance moves, songs about a kraken, parrot, and an invisible crew (everyone needs one!), and a song or two about keeping the ocean and land clean.

Tom Mason and the Blue Buccaneers' fourth CD is Pirate Party, a completely uptempo collection including their interpretations of classic sea shanties, some rousing fiddle songs, and four of their own rowdy sing-alongs. Blow The Man Down is given a New Orleans parade feel, Drunken Sailor a Bo Diddley beat, and Haul Away Joe straight out rocks. The CD gives the band some room to stretch out and apply some of their bluesy roots and Tom's slide guitar to songs that have traditionally been sung a cappella. It's the perfect soundtrack to a pirate party, or any party for that matter.

The CD "The World is Ablaze" draws on the fact that pirates sailed the world around and pirate crews were an international lot, so their music would be a medley of styles plundered from all over. Far Far Away was inspired by the pirate Henry Avery and his crew, who set out as honest sailors but mutineered after going months without pay or adequate food. Avery's crew took a ship of the Mogul Emperor and legend has it Avery fell in love with one of the slaves on board, a tale told in the song "Tattooed Hand", accompanied by the sensuous rhythms of the Indian tabla drum. There's a klezmer-inspired Mogul Ship that give the violin free reign, the bluesy Any Port in a Storm, and bagpipes (The Likes of Me) and banjo (Jimmy Gray)

Their first CD The Blue Buccaneer- Songs Inspired by the Golden Age of Pirates is a rowdy and evocative work that transcends any aspect of novelty that one might expect at first glance. The songs conjure up a life on the seas in an era when the only hope for destitute sailors was to go on the account, to become pirates. There are rousing sing-along drinking songs (Pirate Song, In The Drink), piratical rave-ups (Queen of the Spanish Main, Say Goodbye), and ballads that bear out the harsh realities of life on the sea (Wondrous Wind, Sail Away). In The Service of the King is a lively tale of a sailor unwillingly pressed into service in the Royal Navy and his desertion to become a pirate. Decked Out Like The Devil is a piratical fashion show, in which Blackbeardian pirates dress to scare their victims into submission. Throughout the record, the excitement of Tom Mason & the Blue Buccaneers live show is apparent, whether it be at a theater, on a festival stage, at a beach-side tavern, at a rowdy St Patricks day party, or, of course, on the deck of a brigantine sailing through the Caribbean.
Book Tickets
Guide Prices
| Ticket Type | Ticket Tariff |
| --- | --- |
| Standard | £15.40 |
Note: Prices are a guide only and may change on a daily basis.
Map & Directions