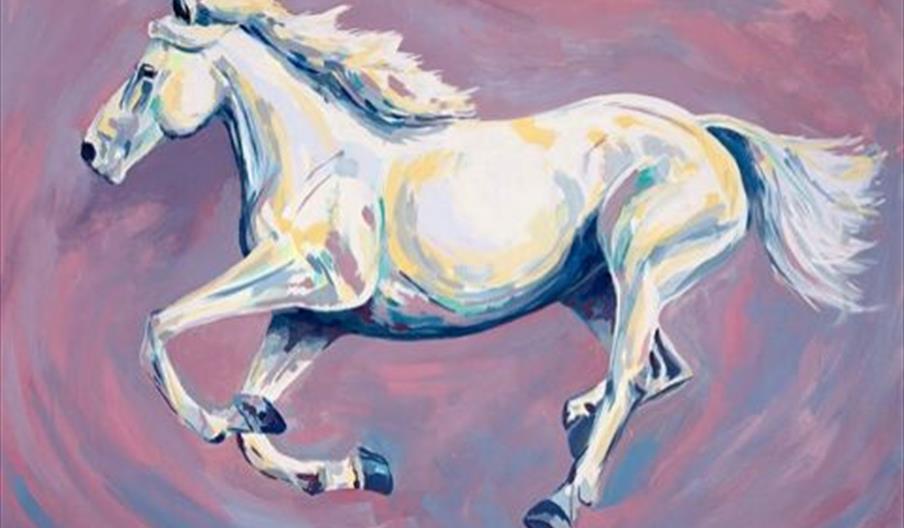 About
Through this exhibition, Isobel uses a vibrant colour palette to add a refreshing dynamism to conventional subject matters. Her work will take inspiration from the subjects close to home here in Yorkshire – including landscapes and animals. In some of her work she embraces the autumnal character of the gardens and the seasonal decay at Scampston, experimenting through both colour and texture to bring back life to the perennial forms.
About Isobel Rooke
Originally from Kent, Isobel moved to Yorkshire after university in 2012 and has since made it her home. Whilst she has built her career in marketing and communications, she has always balanced this with her passion for painting; completing private commissions and exhibiting locally in restaurants, shops and through Open Studios.
This summer she will be bravely venturing to the South of France with a new baby, where she has an opportunity to display her work in a gallery in Uzès, Provence, before returning home to exhibit at Scampston, a place which she is exceptionally fond of, having previously worked here.
As well as her painting, Isobel loves the outdoors and is a keen runner and cyclist, and much of her work reflects this. She enjoys travelling, and to capture some of the beautiful places she has visited. As a relative outsider in Yorkshire, she still enjoys discovering new places and remains in awe of the beautiful and varied landscapes here.


Website www.isobelrooke.co.uk
Instagram @isobelrookeart
Facebook @isobelrookeart
Email isobelrooke@gmail.com
Booking Information
No booking required. The exhibition is free to visit in the Walled Garden Cafe.
Contact Details
Contact Name: Anna Walker
Email: anna@scampston.co.uk
Phone: 01944 759111
Postal Address:
Estate Office, Scampston Walled Garden
Book Tickets