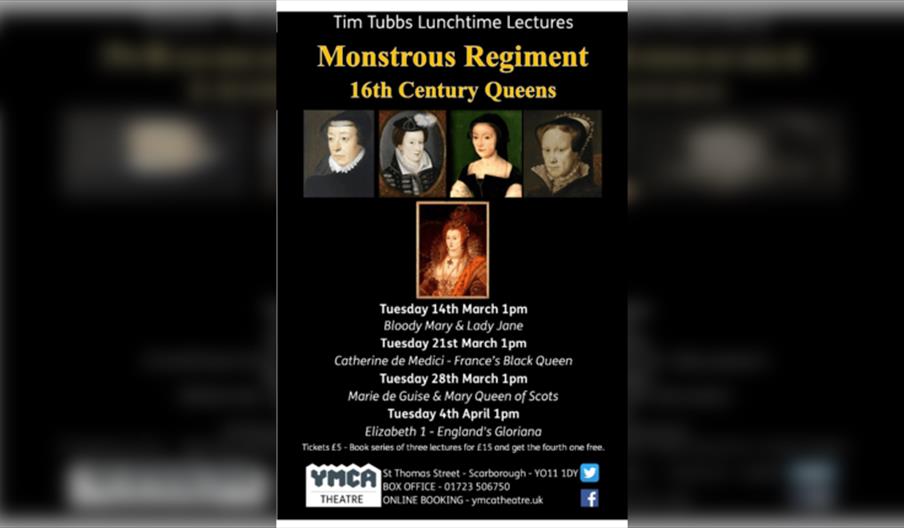 About
MONSTROUS REGIMENT: 16th Century Queens
Tuesdays 14th, 21st, 28th March & 4th April 2023
16th century Europe experienced the unfamiliar and deeply mistrusted government of female rulers. How did these exceptional women face the challenges of direct rule in a male world of violent intrigue and religious ferment?
"Bloody Mary" & "Lady Jane" (14th March)
Henry VIII's only son Edward VI died prematurely, and a power struggle ensued between a Protestant régime of doubtful legitimacy and the Catholic heir. Both the short-reigning Jane Grey and Mary Tudor were made miserable in the process.
Catherine de Medici – France's "Black Queen" (21st March)
For 30 years the Italian-born Queen Mother struggled to keep her three weak, diseased sons on the French throne during civil wars and economic disaster, her realpolitik earning her history's "Black Legend" as the wicked queen.
Marie de Guise & Mary, Queen of Scots (28th March)
Scotland's infant Queen Mary was whisked off to France, to escape the encroaching English, as a Protestant revolution struggled against female, French, Catholic rule, in the person of her embattled mother, Regent Marie de Guise.
Elizabeth I – England's Gloriana (4th April)
How did this extraordinary woman and exceptional queen beat the overwhelming odds to become the century's most successful female ruler and one of England's greatest icons? She should have come badly unstuck again and again, but…
Book Tickets
Guide Prices
| Ticket Type | Ticket Tariff |
| --- | --- |
| Standard | £5.00 |
Note: Prices are a guide only and may change on a daily basis.
Map & Directions