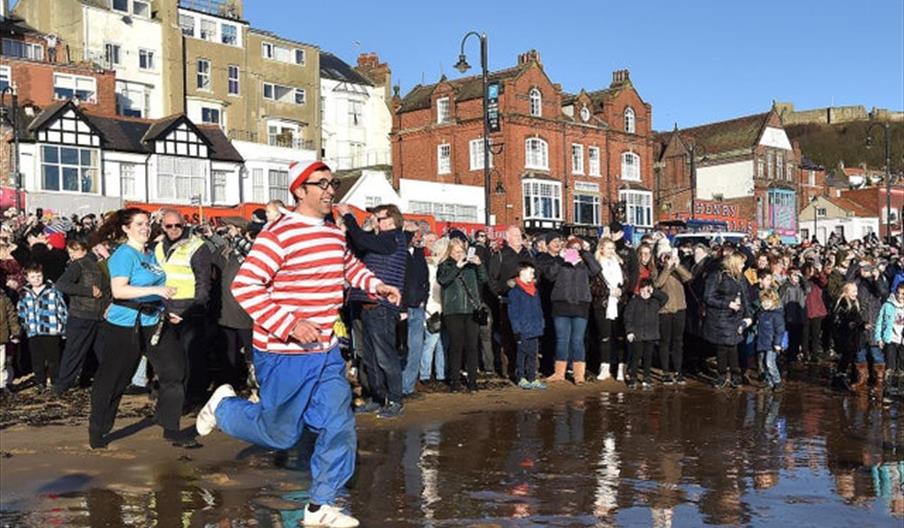 About
Traditional New Year's Day dip in Scarborough South Bay.

It has been going for over 20 years, and more than a hundred people generally take part.

It is to raise sponsorship money for charity, a quarter of which goes to the Scarborough Lions.

Its Vice-President, Rob Hunter, said:

"We have collections at Christmas, we have the New Year's Day dip, we have collections are Easter and fundraising events going throughout the year; and all the money that comes in, goes back into the local community.

We don't use any, we pay all our own expenses so every single penny that comes in, ends up somewhere in the local community again."

The club's expecting people from all over Yorkshire, Humberside, Tyneside and more to participate in the event.

Rob explains why people decide to come to Scarborough to do the dip:

"I think it's actually probably the challenge; because really what we're asking them to do is get sponsored to dive into the coldest sea; probably short of the Arctic ocean in the whole of the world, and get wet and cold and get paid for it to help charities."


Book Tickets
Map & Directions
Road Directions
SCARBOROUGH PARKING MAP: Please copy & paste the following website link into your browser: https://www.scarborough.gov.uk/home/parking/car-parks For up to the minute information on ROAD WORKS / ROAD CLOSURES: Please copy & paste the following website link into your browser: http://www.northyorks.gov.uk/article/26662 Directions to south bay when there are no major events taking place: By Road: Follow signs for Scarborough's South Bay. From the South end of the bay you will come along Foreshore Road. From Peasholm Park in the North Bay, go on seafront along Royal Albert Drive, Marine Drive and Sandside. By Public transport: There is a regular No.6 bus service from the town centre down to the West Pier in the South Bay (day time only). Current timetable at www.eyms.co.uk