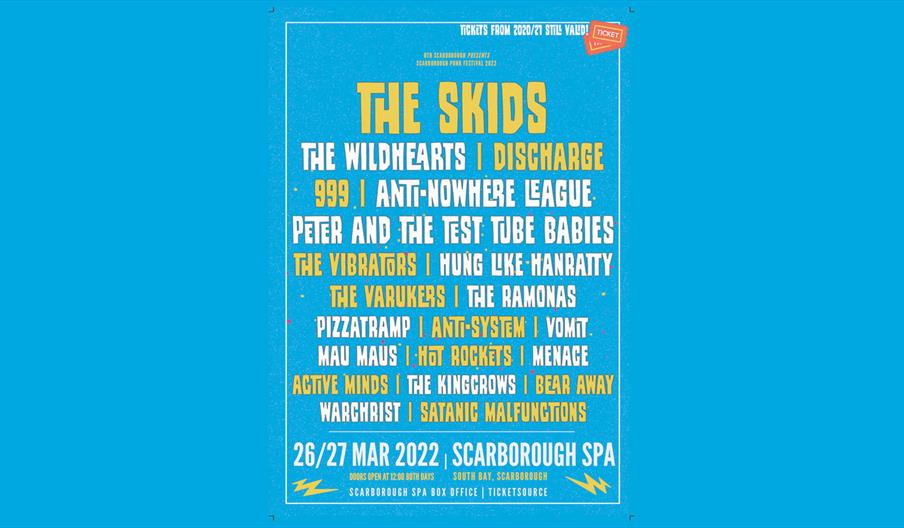 About
"Punk royalty visit the seaside in March 2022 for Scarborough Punk Festival"
In March of 2022 some of the finest punk bands in the world will gather at the beautiful Scarborough Spa venue for the two day Scarborough Punk Fest. On the weekend of the 26th and 27th legends of the scene like The Skids, Discharge and the Anti-Nowhere League will be joined by a fierce and furious supporting cast including the Ramonas and Warchrist.This is the punk event of 2022! The full line-up is as follows...
Saturday 26th
The Skids
Anti-Nowhere League
Menace
Peter & The Test Tube Babies
Gimp Fist
Hung Like Hanratty
Ramonas
The Kingcrows
Hot Rockets
Sunday 27th
The Wildhearts
Discharge
The Varukers
Warchrist
Mau Maus
Vomit
Satanic Malfunctions
Anti-System
Active Minds
Bear Away
Doors will open at 12:00pm each day and pass outs will be available throughout.
Inside the venue there will be an array of stalls, merchandise and refreshments.
Tickets for the event are priced at £60 for a weekend pass, £41 for Saturday only and £29 for Sunday only and are available from the Scarborough Spa box office - https://www.scarboroughspa.co.uk/
Contact the Spa on boxoffice@scarboroughspa.co.uk or 01723 376774
Find the Spa at:
South Bay, Scarborough, YO11 2HD
Book Tickets
Guide Prices
Tickets issued for the previously announced dates in 2020 & 2021 remain valid. Contact Box Office for tickets.
Map & Directions
Road Directions
By Road: Follow signs into Scarborough Town Centre then follow further signs to South Bay. The Scarborough Spa is situated to the South of Foreshore Road. The nearest railway station is Scarborough, which is 1 mile away.