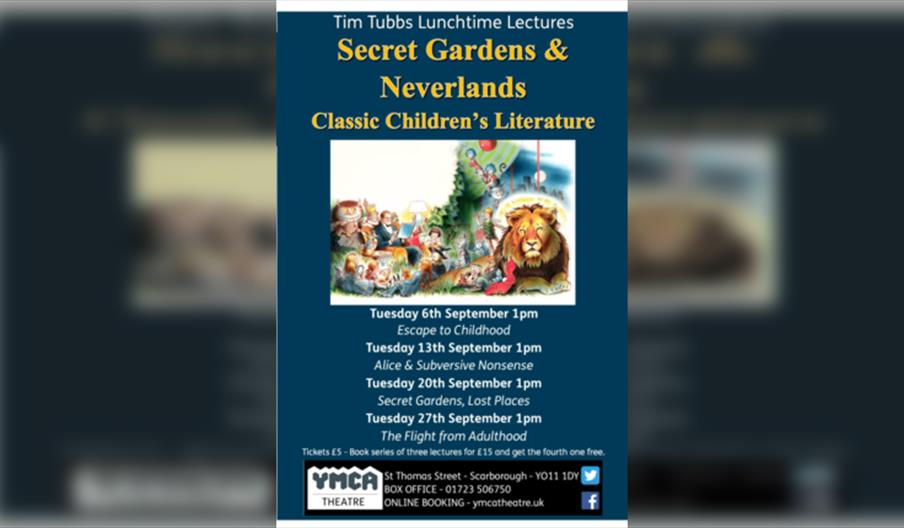 About
This series explores the great English children's writers, from Edward Lear and Lewis Carroll, through Kenneth Grahame and Beatrix Potter to J M Barrie and A A Milne, and their themes of escape to lost worlds.
The Escape To Childhood (31st January)
In the 19th century, creative, imaginative fiction for children was a latecomer to English literature. Following Wordsworth's notion of the child "trailing clouds of glory", free of the adult "prison-house", the Victorians seemed to be sentimentally besotted with images of childhood as a lost paradise.
[ NB – no Lunchtime Lecture on Tuesday 7th February! ]
Alice & Subversive Nonsense (14th February)
The inspired fantasies of Edward Lear's Nonsense and Lewis Carroll's Alice books deliberately and gleefully subvert grown-up conformity. Their topsy-turvy worlds of excess, transformation and crazy logic seem to be the creation of men who felt at odds with conventional adult life.
Secret Gardens, Lost Places (21st February)
From the 1890s to the First World War, a generation of great writers for children included Kenneth Grahame, Rudyard Kipling, Beatrix Potter, Frances Hodgson Burnett and E Nesbit. They celebrated the redemptive power of childhood and a constant yearning for escape to lost places and secret gardens.
The Flight From Adulthood (28th February).
J M Barrie's and A A Milne's "terrible masterpieces" Peter Pan and Winnie-the-Pooh offer idealised childhood in Neverland or The Hundred Acre Wood. Tragically entwined with their authors' real lives, these classic stories celebrate the refusal to grow up, the flight from adulthood.
Book Tickets
Guide Prices
| Ticket Type | Ticket Tariff |
| --- | --- |
| Standard | £5.00 |
Note: Prices are a guide only and may change on a daily basis.
Map & Directions