The Year of the Coast is all about celebrating what the English coast has to offer. Whilst the Yorkshire Coast might be known for its stunning natural beauty, it also has a vibrant and diverse culinary scene. From fresh seafood to traditional delicacies and Michelin dining, there's something to satisfy every food and drink enthusiast.
We're going to delve into the mouth-watering delights that await you on the Yorkshire Coast, along with a unique activity that deserves a spot on your itinerary.
Food Festivals
If you can't quite decide what type of cuisine you fancy, a food festival might hit the spot perfectly. Here's a few festivals coming up this summer which have a plethora of food and drink stalls where you can sample homemade delights and pick up some locally-grown produce:
Filey International Food Festival
Whitby Beer Festival
Headland Festival
Malton Food Lovers Festival
Breweries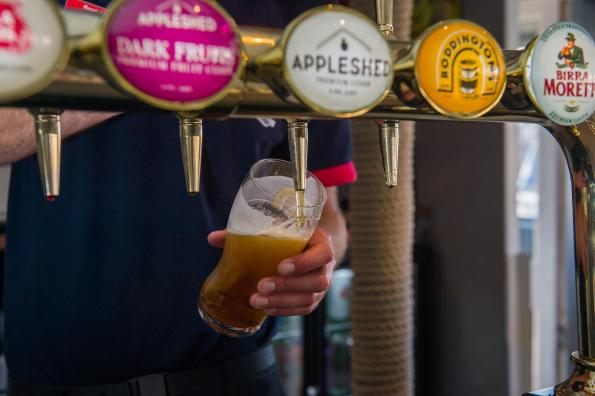 You might be surprised to learn the Yorkshire Coast has a thriving craft beer scene, with a variety of unique breweries waiting to be explored.
Wold Top Brewery
Nestled in the picturesque Yorkshire Wolds, the family-run Wold Top Brewery has gained recognition for its high-quality and environmentally friendly brewing practices. They use locally grown barley to create a range of distinctive beers, including their popular Wold Gold pale ale and Scarborough Fair IPA.
Filey Distillery
Like the town it's named after, Filey Distillery has its own particular spirit. Winning multiple awards, the coastal gin is distilled in a 160-year-old former herring smokehouse using copper pots, and each bottle is filled and labelled by hand.
Whitby Brewery
Situated in the heart of the charming town, Whitby Brewery has been producing delicious Yorkshire ales since 2013. They also craft a range of flavoursome beers, including the Whitby Whaler, Abbey Blonde and Saltwick Nab.
If you're up for trying something new or just want a fun day out, exploring the culinary scene of North Yorkshire's Coast is a must. So come along and enjoy a piping hot plate of fish and chips or sample a locally brewed craft beer!
Find out more about food and drink on the Yorkshire Coast.